HRCompete and IE event in Beirut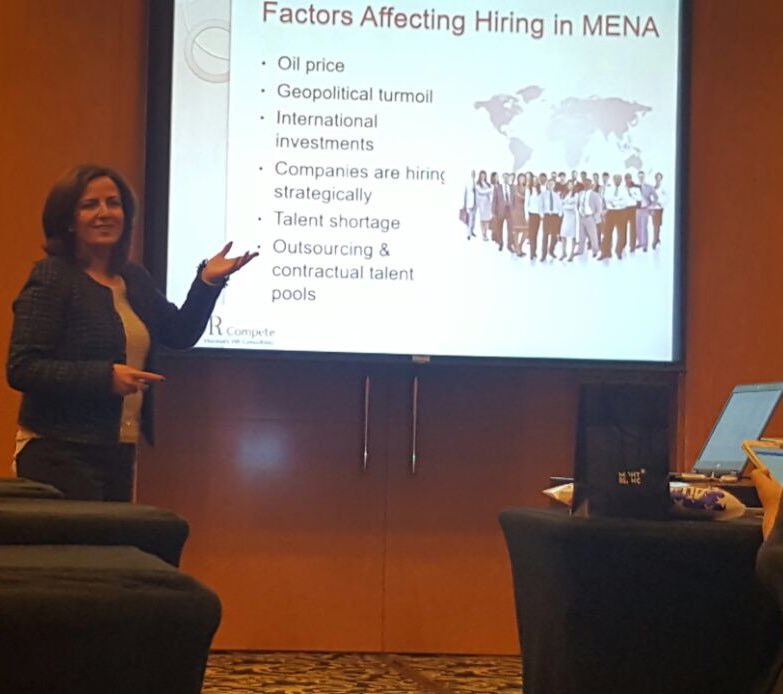 On February 8th, IE and HRCompete co-hosted an event for IE Alumni at Four Seasons Hotel in Beirut. The event started by providing one-on-one Career Coaching sessions for 10 Alumni. This was handled by Roula Akl, Founder and Managing Director of HRCompete, and Amber Wigmore Álvarez, Executive Director of Career Services at IE. These sessions helped the coachees get advice on how and where to seek job opportunities in Lebanon and MENA region.
"I'm happy that our partnership has yielded so far, several accomplishments and events that we've collaborated on, the latter being the Alumni and Career Coaching event which had a positive impact on IE Alumni in Lebanon" said Roula Akl.
More than 30 Alumni then participated at three interactive Presentations which followed the Career Coaching sessions:
Talent and Careers with Impact presented by IE Executive Director of Career Services, Amber Wigmore Álvarez
Career Trends in MENA presented by Roula Akl, HRCompete
10 Things you might not know about Global Alumni Services presented by IE Head of Global Alumni Relations, Julia Sánchez
"It's a pleasure to support IE's International Development Department, represented by their Director in MEA, Sabine Yazbeck, on building its corporate relations through our strong network in the region. We're glad also to collaborate with IE Team members from Dubai and Madrid, and with Wael Kechli, the President of IE Alumni Association in Lebanon for the coaching of IE students and alumni locally" continued Roula Akl.
For more details on our special offer to IE on Career Coaching services and related workshops, kindly refer to our proposal on the IE Career Portal. Don't hesitate to contact us directly for your questions by emailing us at This email address is being protected from spambots. You need JavaScript enabled to view it. view site
Proud to be an IE Partner and looking forward to further successes!
To watch a part of the conference, click here