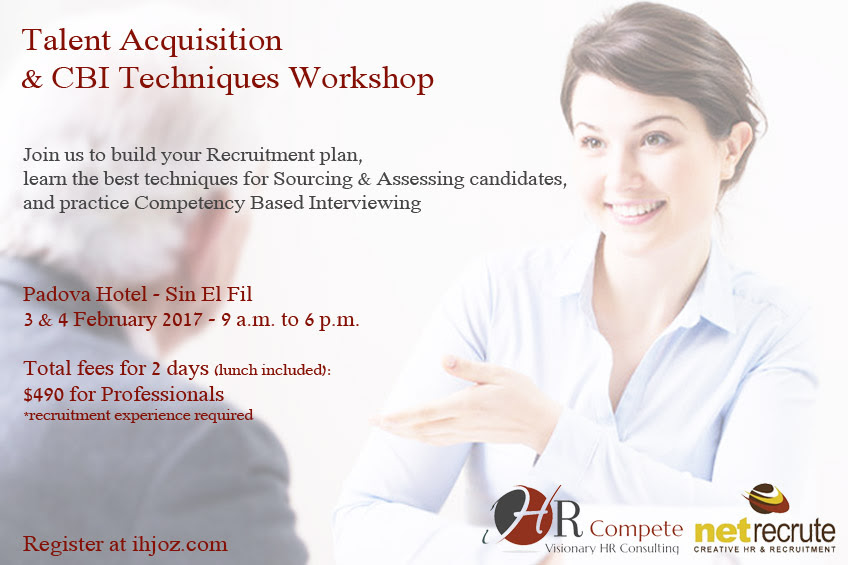 Talent Acquisition and Competency Based Interviewing
It is our pleasure to inform you of our first workshop for 2017! The Talent Acquisition and Competency Based Interviewing (CBI) Techniques workshop will be held on 3 and 4 February.
Please find below the different topics that will be discussed during the workshop:
Talent Acquisition by HR or Business Managers?
How to build your Recruitment Plan and Budget?
What are the best techniques to use in Sourcing & Assessing candidates?
How to Screen incoming CVs against Job vacancies?
Which Interviewing process suits you best?
What's the difference between Internal and External recruitment?
When to use Assessment Tools and Technical Tests?
How to Select the best Candidate?
What to avoid in Offering and On-boarding?
We will also hold practical sessions on:
Interview Preparation and Process
Interviewing Techniques
Competency Based Interviewing (CBI)
Targeted Audience: HR and Business Professionals, experience in Recruitment required (2 years & above)
Total fees: $490/participant for both days (Friday and Saturday, from 9 a.m. to 6 p.m.) including coffee breaks and lunch.
Certificate: A Certificate of Attendance will be provided to all participants
Venue: Padova Hotel, HorchTabet Main Road, Sin El Fil, Beirut, Lebanon; Location via Google maps: Talent Acquisition and CBI
How to Register? Please click here to register online
For additional information, email us at: This email address is being protected from spambots. You need JavaScript enabled to view it.
For more details about the workshop's content, please contact Mrs. Roula Akl on the contact-us page
Tags: recruitment, human resources, Training , Workshop